New update of Rampage Knights has been released on Steam. The main feature of this update is local co-op. You can now play with your friend on the same machine!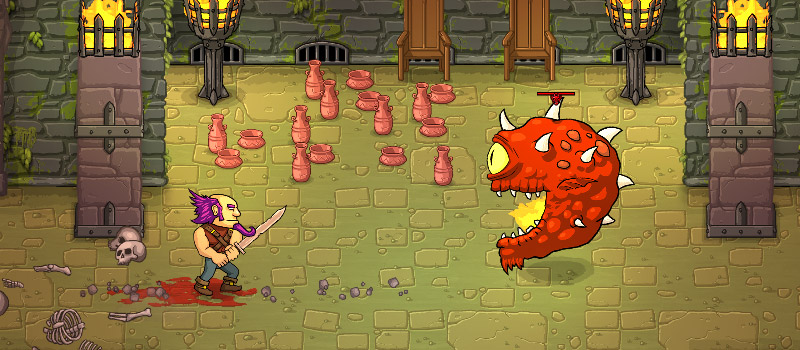 New features and changes:
Local co-op is supported now. It runs in shared screen instead of split screen. Players must leave room together. This feature required many changes and hacks in the code so bugs and crashes should be expected. Please test thoroughly if you can.
In local co-op HUD is rearranged to show elements for both player.
In local co-op both players share the same profile. Kills and other statistics are counted together. It doesn't matter who completes a challenge, it is triggered only once and both players benefit from the reward.
Local co-op supports save/load the same way single-player does. You can quit a game and continue later.
All bosses are enabled again.
Fights with mid-game bosses are not started automatically. Slime Head wakes up when he's hit for the first time. Dragon breaks through the wall when a dragon egg is destroyed. Legion is triggered by a lever. This gives the players time to prepare.
Adjusted HP of the bosses to make them tougher. Also the bosses have bonus HP in co-op (previously only the final boss had higher HP in co-op).
Slime Head's "push roar" is shorter, but stronger.
Slime Head doesn't close his eye immediately after hit to give players chance to hit him more often.
Totems of Death have higher HP in co-op mode.
Beholder enemy is fixed. It has a proper melee and ranged attack now and spawns some demons on death.
Bean of Unnatural Growth is no longer playing male animation for female character when its effect triggers.
Spellbooks have smaller chance to drop.
Hero stats on TAB show currently selected difficulty.
Input from all gamepads is merged together in menus so any player can control the menus when playing local co-op.
Female character has proper skins for different armors and classes.
Giants have different sounds and weapons. Giant Skeleton does poison damage. Nether Lord does cold damage. Giant Devil does fire damage.
NPC in camp have some sounds.
New faces: Cyborg (male and female version), Ash, Bearded Lady.
HITS counter shows its effect on damage.
Fixed room maps, where enemies could spawn out of reach (without levitation).