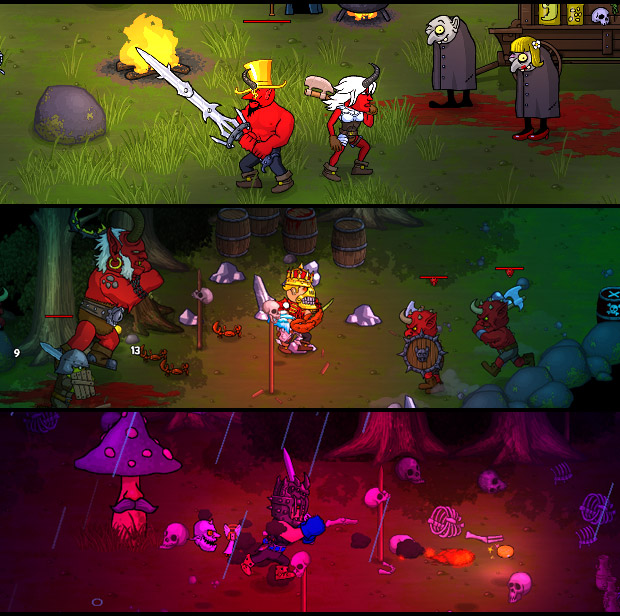 List of the changes:
Steam achievements. When you unlock a challenge, corresponding Steam achievement is also unlocked. When you first start this update the game will upload all unlocked challenges to the Steam. Reseting player progress in the settings menu will reset only the in-game challenges and rewards, but it will not reset the Steam achivements.
Insane difficulty is more difficult. There are more spikes and pits in the castle and players get random disease or curse at the beginning of every level.
Man at War challenge unlocks Shadow World. Talk to Tim, the Alchemist in the camp. Shadow World is a crazy broken mode for players who are able to beat insane difficulty. Don't take it too seriously
New achievement Through Looking-Glass.
Assassin doesn't receive throwing weapons at the start anymore.
Assassin with fatigue does roll now instead of doing nothing when you press evade button.
Players which completed Uncle Scrooge challenge start with 25 coins.
Rewards for challenges should be complete now. Also there are new hats and faces to unlock.
A hero skin suspiciously resembling Coach is back!
Weapon prices have been adjusted to make them more affordable.
Health of enemies and damage of their attack have been adjusted. The enemies should die faster, but they hit slightly harder. This should speed up the combat, but also make it riskier.
Minor fixes of graphical glitches on rampart.
Hero stats on TAB shows name of the current level.
The engine has an improved way to handle frame control when Vsync is enabled. Hopefully this will help people who experience FPS stuttering here and there.